September 18, 2020
#DefundDPD At-Home Action Toolkit

For those looking to join the Day of Action to Stop Police Crimes in Dallas, but are unable to attend the march in person, please use and share this toolkit to support our demands!
1. Sign & Share the Petition to #DefundDPD
2. Social Media
Use hashtags #DefundDPD #CommunityControlNow #StopPoliceCrimes on Instagram, Twitter, Twitter, etc. to tell your friends and family about why they should support defunding the police and community control of the police, their budget, and their policies!
https://kutt.it/communitycontrol
Check out the social media toolkit put together by the National Alliance Against Racist & Political Repression at:
And be sure to follow us for updates!
3. Contact US Attorney's Office, Northern District of Texas
Erin Nealy Cox, chair of the Attorney General's Advisory Committee, has been assigned by Trump's appointed U.S. Attorney General William Barr to co-lead a task force to repress activists and protesters from our movement across the country.
Tell her that the people of Dallas and this country want en end to the terror of far-right and white supremacist violence by police and vigilantes, not anti-democratic political repression!
4. Contact Your City Councilperson
The final vote on the Dallas city budget will take place on September 23rd and we need to keep the heat on that we demand divesting funding and resources from the inflated Dallas Police Department and investing in the poorest block and brown communities.
Please use the map below to find your city representative and contact them on the phone if possible, otherwise on social media or email.
Example script:
Hello __________,

My name is ________________ and I am a resident of [NEIGHBORHOOD] in your district. I'm reaching out about the upcoming vote on the Dallas city budget. I am deeply troubled by the continued over-resourcing and over-funding of our police force which has failed again and agin to meet the needs of this city's poorest, especially black and brown people.

While the most disadvantaged neighborhoods in Dallas are surveilled, harassed, and far worse, I hope that you will seriously consider the need to lessen policing and other forces that worsen the economic strain on these communities, and increase the public education, health, and other public services that also reduce crime. I would like you to use your position to take a clear stance on these issues in our budget.

Thank you,
________________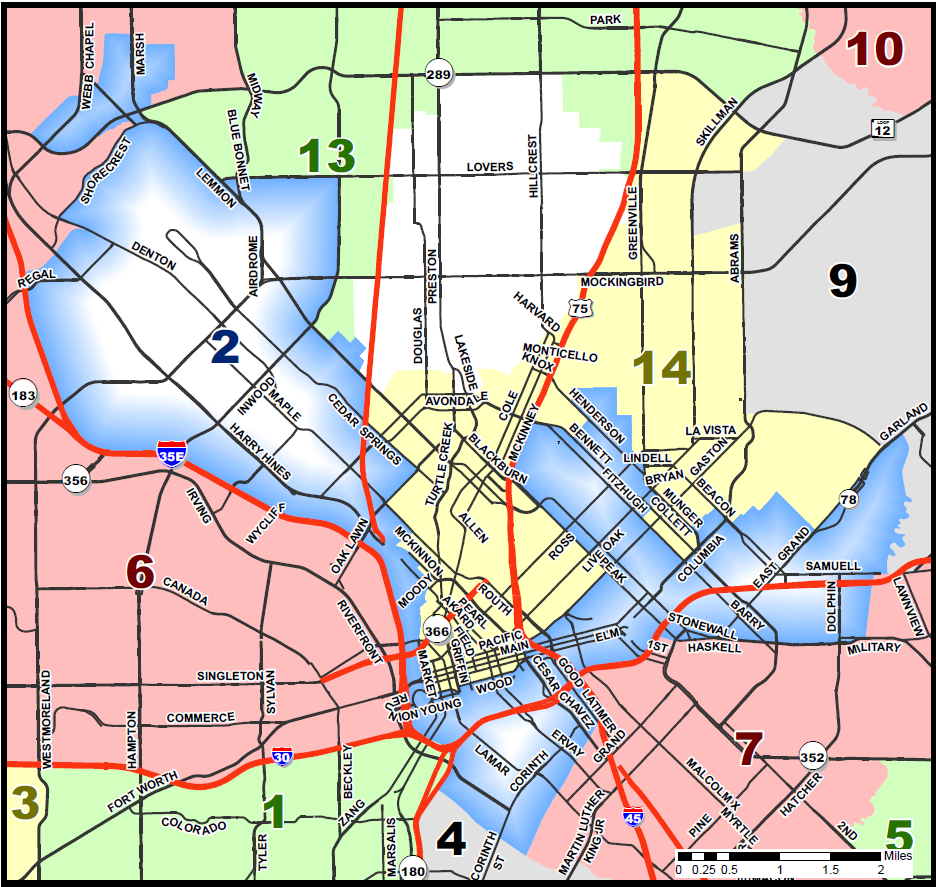 District 1 — Chad West
District 2 — Adam Medrano
Distrtict 3 — Casey Thomas, II
District 4 — Carolyn King Arnold
District 5 — Jaime Resendez
District 6 — Omar Narvaez
District 7 — Adam Bazaldua
District 8 — Tennel Atkins
District 9 — Paula Blackmon
District 10 — Adam McGough
District 11 — Lee Kleinman
District 12 — Cara Mendelsohn
District 13 — Jennifer S. Gates
District 14 — David Blewett
5. Donate!