February 27, 2021
The People vs. Derek Chauvin Day 1 | Dallas for Justice for George Floyd!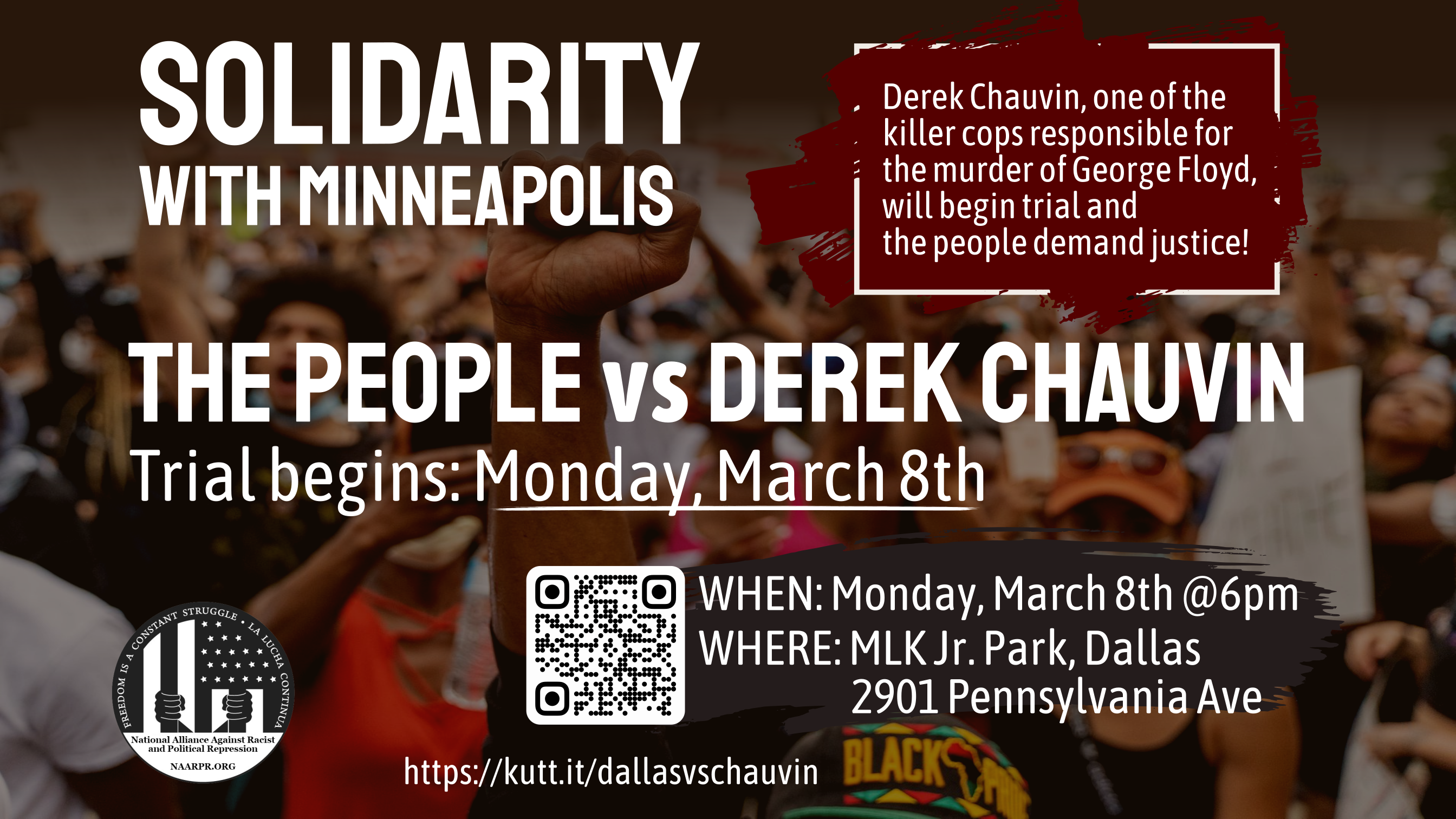 When: Monday, March 8th @6pm
Where: Dr. MLK Jr. Park (2901 Pennsylvania Ave, Dallas)
RSVP:
Solidarity with Minneapolis
Derek Chauvin is the first of the 4 killer cops to stand trial for the murder of George Floyd. His trial is set to begin Monday, March 8 (with jury selection). The whole world witnessed the brutality that stole George Floyd's life. People took to the streets in cities and towns in every state in this country to demand justice for George Floyd, and for all those murdered by police.
This trial is not only important for Minnesota, which has never seen a white police officer prosecuted for murdering a Black person. It is important for the entire country, which was set aflame in rebellion after Floyd's murder.
In Texas, we were just devastated by a winter storm that overloaded our already over-stressed and under-maintained electrical grid. Our deregulated electricity market and the neglect of our politicians left homes and businesses severely damaged, lives lost, and an estimated $50.6 billion dollars of damage for us to pay off. Meanwhile, a black high schooler was arrested for walking home in the road because the sidewalks were too icy. In Portland, Oregon during outages from the same storm, police officers were dispatched to protect grocery store dumpsters to ensure that if people couldn't pay for food, they couldn't get any that was thrown away either.
Even in times of crisis, the police punish the poor and protect private property. We will not rest until we see all four of George Floyd's killers taken off the streets, and our communities have the power to stop police crimes and decide our own futures. We stand in solidarity with the activists in Minnesota, rallying to continue the call for Justice for George Floyd. Stand with us and send a message to the entire institution of policing in this country that racist disregard for black and brown lives is coming to an end by the will of the people!
Justice for George! All power to the people!