May 30, 2020
#DayOfProtest At Home Toolkit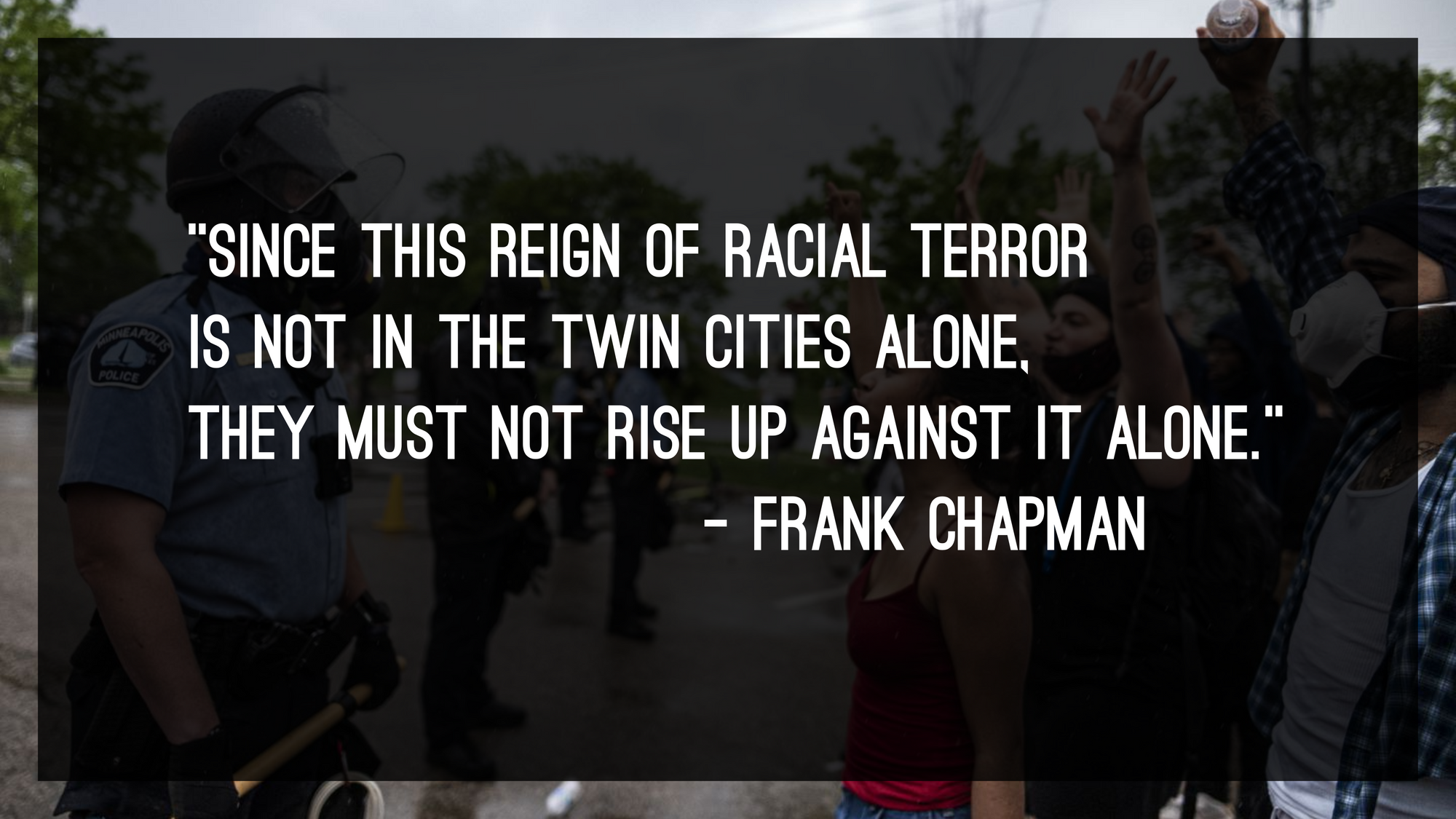 Use these Hashtags: #DayOfProtest #StopPoliceCrimes #FreeThemAll
The National Alliance Against Racist & Political Repression (NAARPR) has called for a national day of protest on May 30th. This toolkit is a guide for those who can't take part in the caravan protests, but still want to take action to #FreeThemAll and #StopPoliceCrimes
Why are we protesting?
We are rising up in solidarity with the protesters in Minneapolis demanding justice for George Floyd. Police murders, kidnappings and torture must stop, and we must act now to stop them.
We are taking mass, united action to oppose the Federal Government and the robber barons on Wall Street who are putting the lives of the people in danger to increase their own profits.
We are protesting to combat the agents of white supremacy. This includes those who put the lives of Black, Latinx, and Indigenous workers at risk with calls to reopen the economy, as well as the police and racist vigilantes murdering Black people in the streets and in their homes.
We are protesting the murders of Ahmaud Arbery in Georgia, Breonna Taylor in Kentucky, Sean Reed in Indiana, George Floyd in Minnesota, and many others whose lives were taken by racist terror. These lynchings must stop and the perpetrators must be punished.
We are taking action against the genocidal policies that have turned prisons, jails, and detention centers into covid-19 hotspots and death camps for millions. The human beings in these so called correctional facilities are overwhelmingly Black and Brown, LGBTQ, working class people from among the 140 million poor people living in America. They cannot maintain social distance and they are not being given adequate PPE or healthcare. We demand the immediate depopulation of all jails, prisons, and detention centers.
We are demanding the immediate release of all political prisoners, torture survivors, and the wrongfully convicted. Federal and state governments have plenty of means of meeting this demand. They are only held back by the greed of those who profit off of prison labor.
We are mobilizing caravans and socially distant protests across the country. We refuse to be silent in the face of oppression. We are standing up and fighting back to build the world in which we want to live.
Find the full NAARPR statement here: https://naarpr.org/updates/national-alliance-calls-national-day-of-protest-may-30th/
Call your representatives
Find your congressional representatives here: tiny.cc/callcongress
Find your senators here: https://www.senate.gov/senators/index.htm
Call Hennepin County prosecutor Mike Freeman to demand that all 4 officers who murdered George Floyd be arrested and charged: 612-348-5550 & 612-348-2146
Call Minneapolis mayor Jacob Frey to demand that he order an immediate end to all police violence against protestors: 612-673-2100
Call Governor JB Pritzker to demand the immediate release of Gerald Reed and all torture survivors, as well as the total depopulation of all prisons, jails, and detention centers in Illinois: 312-814-2121
Add your name to this letter demanding justice for Tony McDade, a Black trans man murdered by police in Tallahassee (you don't have to be a Tallahassee resident): https://actionnetwork.org/letters/demand-justice-for-tony-mcdade?source=direct_link&
Stay updated
Follow the Dallas Alliance on all social media for news and calls to action:
Twitter: https://twitter.com/NAARPR_DFW
Facebook: https://fb.me/DFW.Alliance
Instagram: https://instagram.com/NationalAllianceDFW
More Resources
Learn more about the fight for community control of the police in Chicago, and help bring the fight to Dallas: https://www.caarpr.org/stop-police-crimes
Donate to the bail fund: https://gf.me/u/x5tcmv
Spread the word
Graphics to share
Create a poster
Step 1: Make a poster about why we protest and what our demands are. You can use the above sample texts or write your own message.
Step 2: Take a selfie with your poster and upload it to social media with the tags #DayOfProtest, #StopPoliceCrimes, and #FreeThemAll
Sample posts for social media
White supremacy kills Black people in the streets, in their homes, at work, and in prisons. Lynchings by police and vigilantes must stop. Death by infection due to incarceration must stop. On this #DayOfProtest we are fighting to stop them.
#StopPoliceCrimes #FreeThemAll
Everyone who knows that #BlackLivesMatter must stand in solidarity with the protesters in Minneapolis demanding #JusticeForGeorgeFloyd. On this #DayOfProtest, we are rising up across the country to demand an end to police lynchings and justice for the victims.
#StopPoliceCrimes
This #DayOfProtest is for Breonna Taylor, Ahmaud Arbery, George Floyd, Sean Reed, and everyone whose life was stolen by racist murderers. We demand justice for the families and community control of the police.
#StopPoliceCrimes #CommunityControlNow
This #DayOfProtest is for Gerald Reed, Clayborn Smith, Tamon Russell, and countless others who were kidnapped by police and tortured over many years of incarceration. We demand freedom and reparations for all torture survivors and the wrongfully convicted.
#FreeThemAll
This #DayOfProtest is for the families torn apart by ICE and locked up in immigration detention centers. We demand freedom and reparations for everyone in those concentration camps and an end to all ICE activity.
#FreeThemAll #AbolishICE
This #DayOfProtest is for Jalil Muntaqim, Mutulu Shakur, Leonard Peltier, and all political prisoners held by this racist and repressive state. We demand freedom and reparations for all political prisoners.
#FreeThemAll
This #DayOfProtest is for the families and communities traumatized by police violence and mass incarceration. We demand community control of the police so we can end the regime of terror in Black and Brown communities.
#CommunityControlNow #StopPoliceCrimes #FreeThemAll
This #DayOfProtest is for Black and Brown communities that are overpoliced and underprotected. Police murders continue while covid-19 disproportionately kills oppressed people. We demand money for recovery from the pandemic, not for police.
#StopPoliceCrimes
We are protesting for freedom for those trapped in prisons, jails, and immigration detention centers. These places are death traps during this pandemic. Elected officials must enact a #MassReleaseNow or they will have even more blood on their hands.
#FreeThemAll #DayofProtest
Prisons and jails were already a public health crisis before this pandemic. With covid-19, policies of incarceration have become genocidal. #MassReleaseNow to save lives.
#FreeThemAll #DayOfProtest
We protest because the incarceration of millions of Black and Brown people where they cannot maintain social distance during a pandemic is genocidal. We won't stop until they're free!
#FreeThemAll
#DayOfProtest
Gerald Reed has never received adequate medical care during the 30 years police torture has kept him in prison. Health conditions in prison have only worsened during the current pandemic.
#FreeGeraldReed #FreeThemAll #MassReleaseNow
We know that immigration detention centers have a long track record of inadequate medical care and unsanitary conditions.These problems have only gotten worse during the pandemic. #MassReleaseNow
#AbolishICE https://www.aila.org/infonet/deaths-at-adult-detention-centers
Donate to Dallas Alliance